Top 5 Landscape Lighting Ideas
May 22, 2020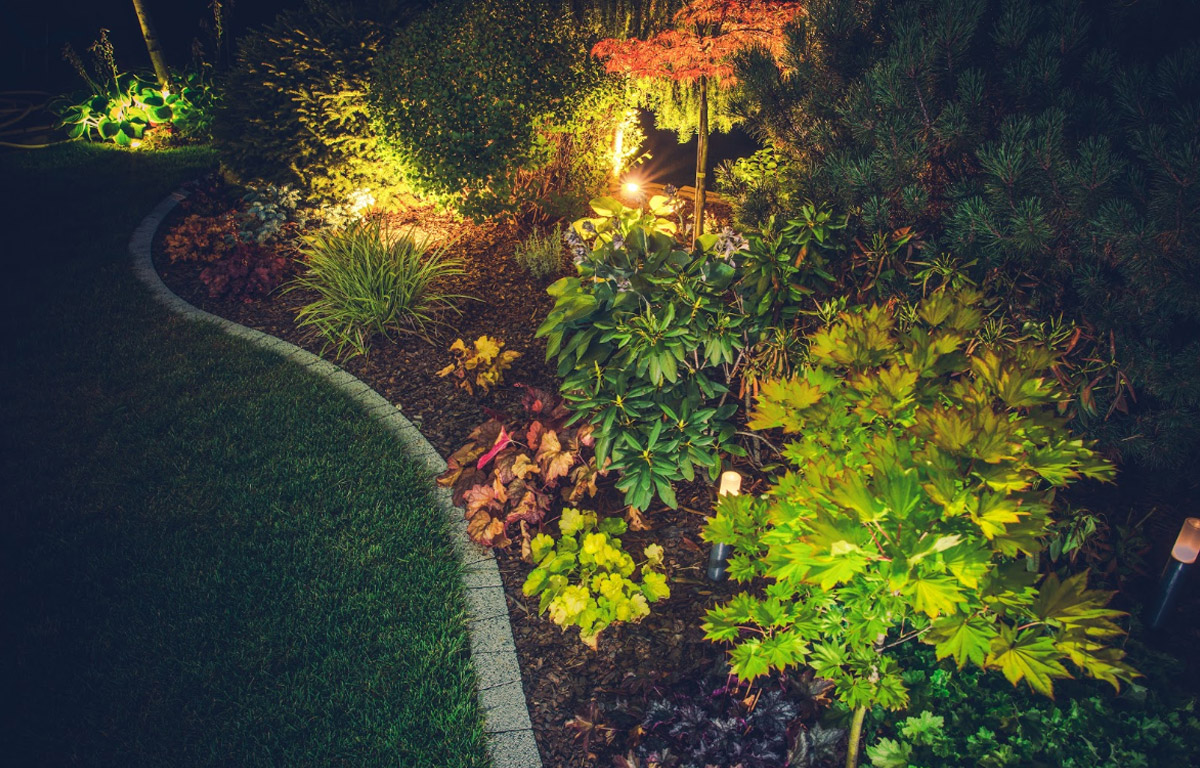 Summer is quickly approaching, which means it's time to begin thinking about how you're going to elevate your landscaping this year. One of our favourite ways to jazz up your backyard without spending a lot of money or time is by incorporating some lighting.
Summer is usually all about entertaining, and lighting is a key party of creating a relaxing mood.
Lighting helps to increase safety while walking outside, creates a warm and welcoming mood, highlights and adds drama to landscape and architectural features, can help to create focal points, enables outdoor grilling at night, and increases curb appeal.
Here are our favourite outdoor lighting ideas to help bring the festivities to life at your next event or get together!
1: String Lighting
String lights are extremely versatile and easy to set up. Often, string lights are suspended high above a patio or deck. You can also hang them on the inside structube of a pavilion or lanai. Once your string lights are set up, it's as easy as flipping a switch to turn them on. Perhaps the biggest benefit of string lighting is that it instantly creates an inviting atmosphere and provides a sense of occasion.
2: Path Lighting
When it comes to safety, path lighting is of paramount importance. Path lighting helps to provide your guests and family with increased visibility when traveling through your yard. We recommend illuminating your walkways and main traffic areas with path lights. If possible, we recommend staying away from solar power lights. Often, they don't provide enough light output to properly illuminate a space.
3: Outdoor Kitchen Lighting
Outdoor kitchens are amazing -- but you need to be able to see what you're doing in order to use the space. For functionality, task, conversation, and your own enjoyment, outdoor kitchen lighting is essential.
4: Accent Light Fixtures
Although accent lighting pieces are often overlooked when it comes to outdoor lighting, accent lighting can make a huge impact. Accent light fixtures make for a great conversation piece, and help to create something unique for you and your guests to enjoy. If your home has an outdoor water feature, that's a great place to add some accent lighting. For example, you can purchase floating glass orb lights for ponds.
5: Focal Point Lighting
Up lighting trees and other key landscape elements can make the atmosphere feel more alive and energetic. Your landscape is the backdrop to your outdoor living and entertaining areas. As such, it should be utilized to create an overall finished lighting scheme.
If you need help lighting up your backyard, contact Turf Pro Landscaping today. We'll help you design your dream backyard oasis.