7 Things to Consider for Planning an Outdoor Kitchen
March 11, 2021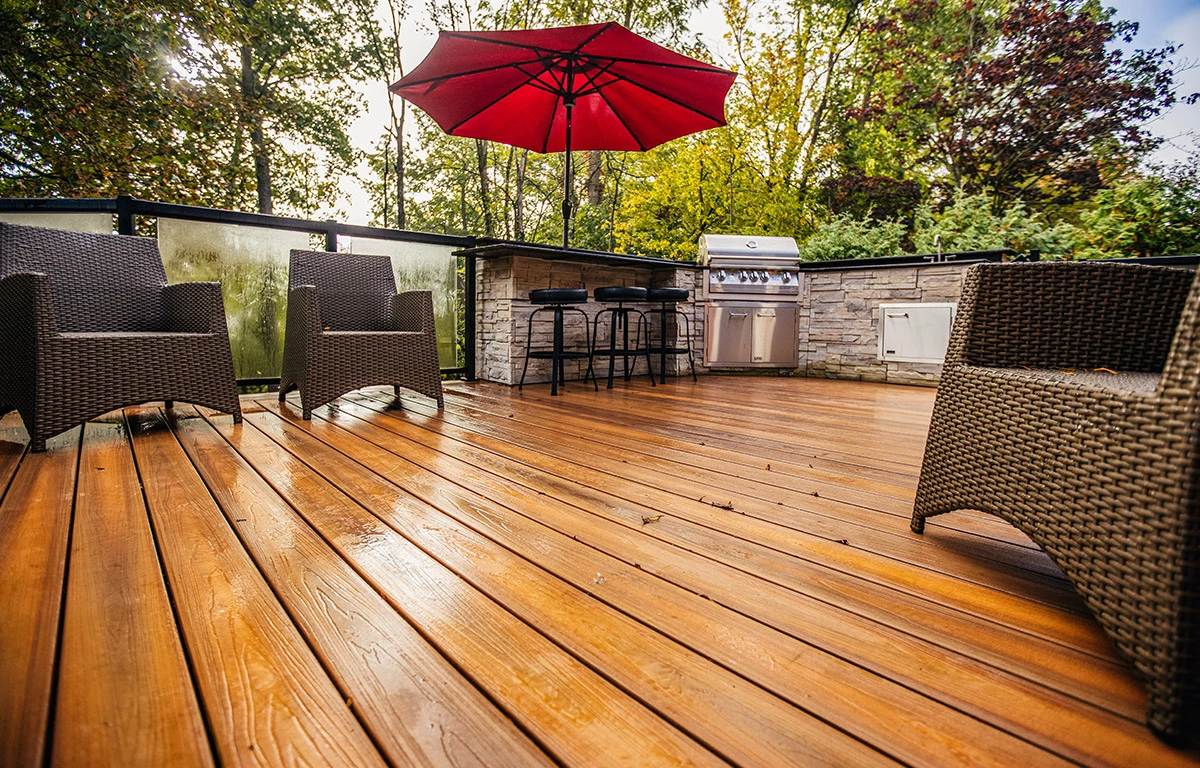 One of the things we love about starting a new project with a client is hearing their wants/needs. This part of the conversation is always interesting because we never hear the same list twice. There's always elements that tend to resurface but having a unique list of project ideas keeps our job interesting. One element that people often have on their list of wants/needs is an outdoor kitchen upgrade. Here's a quick guide to consider if you're thinking of upgrading from just a stand alone BBQ:
Consider your budget.
Regardless of materials chosen, an outdoor kitchen's budget can be blown if you're not paying attention to your priorities. Pick your most needed appliances, you may not need to include anything else. A standard grilling system, a sink, and a bar fridge seem to be the list of essentials for a complete outdoor kitchen, but a bbq and some counter space may be all you need. Your pizza oven, smoker, and kegerator may be nice, but if they're not your most needed appliances, leave them out of your list if you're working with a tighter budget. And hey, if a kegerator is a higher priority than a BBQ, who are we to judge?
Consider a range of materials.
Understand that a complete outdoor kitchen may be outside your budget; however, depending on what your goals are, designing an outdoor kitchen is possible on a tighter budget. That being said, it may not include some of the features you've fallen in love with. While we love the install process and final look of a stone bar with a granite countertop, with the bar fridge and massive cooking grill, there's plenty of other options that can reduce your overall price tag but still contrast with your existing or newly designed backyard. Prefabricated cabinets with aluminum countertops are an easy way to achieve your goals without blowing your budget.
If you want your investment to last, consider higher-end appliances.
If you're getting a bar or counter top custom built to your needs, make sure that the BBQ or other appliance being installed to the perfect dimensions won't have to be replaced in a couple years. Take your time and find out all the information you can about a product before you make a decision. Going with a cheaper option now, may cost you more down the road.
Consider including additional storage for dishes and cookware.
This may not be the place for your fine dining dishes, but this is a perfect place for a set of dishes that contrast with the rest of your landscaping. If you've designed your backyard to meet a particular theme, choose dishes and cookware to match that theme. The inclusion of a sink to your outdoor kitchen means clean-up can happen without having to miss out on your party. If you're the type that likes to escape the party to go clean up, then forget to include the sink and we won't tell anyone your secret.
Consider making your kitchen season proof.
It may be too ambitious to want to use the kitchen every day of the year considering the weather we get in Southwestern Ontario outside the summer months, but designing your kitchen to allow for use through the spring and fall makes for a space to be enjoyed for more than just a couple months of the year. This can be done by including a few things. First being a patio heater, nobody wants to go through being cold when you can simply go back inside where it's nice and warm. Next, a complete covering of the kitchen/bar creates a space that can't be beat by a bit of rain on those hot summer days that seem to always hit around dinner time. Lastly, place your outdoor kitchen close to your entrance to your home. This makes for a quick dash back inside if weather picks up as well as reducing the distance needed for running utilities to your kitchen.
If you're a fair-weather bbq-er, consider doing the opposite. Consider leaving your kitchen exposed.
This will make for a nice contrast to the rest of your landscape and depending on materials chosen, the products are often weatherproof and may just require a canvas covering. It will show off your beautiful kitchen instead of hiding it under a structure. If the kitchen will only get used when it's nice outside, why not show it off.
Consider having professionals design and install your outdoor kitchen.
This will ensure top quality materials are being used and contractors can handle the entire install process, hassle-free. If you are in the London area and are considering the install of an outdoor kitchen, Turf Pro Landscaping can help bring that dream you have for your backyard into a reality. Don't hesitate to reach out to us even if you just have some questions related to landscaping.